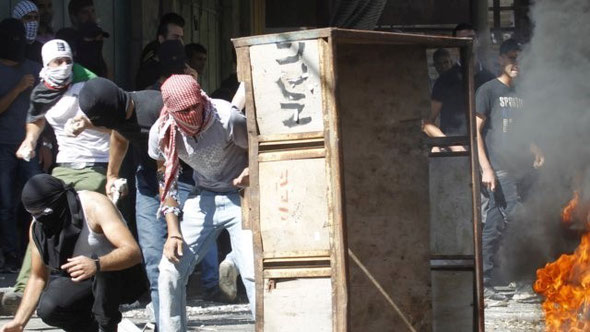 Written by Tariq Dana*
"In the contradiction lies the hope"
Bertholt Brecht
The ongoing Israeli aggression on Gaza and its brutal crackdown on protests across the West Bank, Jerusalem and Arab towns within Israel, coupled with the PA impotence and complicity have fuelled a growing Palestinian popular tendency toward breaking the status quo.
Israel and the PA have been taken by surprise with the spiral of Palestinian protests and clashes with the Israeli occupation forces and settlers following the murdering and burning of a Palestinian teenager, Mohammed Abu Khdeir, by an Israeli fanatic gang in Jerusalem. With its intensity and geographical reach, despite mechanisms of control and joint PA-Israeli security c is a Palestinian academic, researcher and Al-Shabaka policy advisor (The Palestinian Policy Network) coordination, scenes of the first intifada have returned to the Palestinian streets.
Such a dynamic has preoccupied observers, who seem to not give a decisive answer on whether the occupied territories will soon be witnessing a third intifada. In truth it is difficult to speculate. Objective conditions --the Israeli continuous colonization, socioeconomic misery and the collapse of 'peace' talks—which are necessary for the eruption of a new uprising have been accumulated and are present on the ground for quite some time now. The real impediment, however, is that Palestinians are lacking the proper subjective conditions that would sustain a new revolutionary dynamic.
Palestinian political parties that are supposedly the main driver of popular mobilization and guidance have largely lost much credibility, and are currently unable or unwilling to lead the masses, as was the case in previous intifadas. The mass-based movements that characterized the vibrant history of Palestinian civil society have been transformed into foreign-funded, elitist, apolitical and professional NGOs, detached from the grassroots and their real needs and concerns. The PA neoliberal policies have injected the Palestinian social fabric with divisive values of individualism, consumerism and self-interest, which eroded principles of collectivism, self-reliance and concerns for public good.
The PA-Israel security collaboration has proven to be destructive to the overall Palestinian anti-colonial struggle as it particularly aims to crush any form of resistance, popular or armed.
*Tariq Dana is a Palestinian academic, researcher and Al-Shabaka policy advisor (The Palestinian Policy Network)