by Nassar Ibrahim, AIC & OPGAI 
I have been informed that this day, April 5th,  is Palestinian Children's Day,  i.e. my day, although I don't really understand what this means.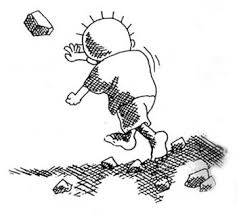 As I recall, I was born between two Nakbas (catastrophes), on the borders of two refugee camps, and by chance I survived the last massacre and the latest raid.
I was born between two bullets. The first bullet failed to kill me, but the second killed my brother. Yes, I had brother. Yes. Can you believe this?! The bullet did not allow me the opportunity and pleasure to know him, to grow together, to be old together, to fight together, to fall in love (maybe with the same girl) , to help me to learn the alphabet, to correct the my spelling mistakes…So, until today I do not even know what it means to be a child!
So many countries and so many institutions: UNICEF, Save the Children... hundreds of institutions, tell me, and tell us, that they defend the rights of children.  They tell me that of course they defend the rights of children, human rights, but that they don't interfere in politics. Welcome, welcome!
Yet I lost my childhood because of political decisions and political treaties, political wars, political occupation, political arrests, political killings, political economy, political violence and political….
Excuse me, for although I'm still young I'm not a child. Because I do not know how to be a kid!
You do not want to interfere in politics, yet you nobly and generously want to defend my rights as a Palestinian child. This is good, but how? I was told that I lost my childhood six decades ago, and that my age is now three years, 10 years, 15 years, 25 years, thirty years, forty years, an old man…I am now walking with the help of my stick....But where is my childhood? I want one day to be a kid... but how? I do not know!
Defending my rights as a Palestinian child, yet at the same time you do not want to interfere in politics. Is this possible? Is it possible to first gain my rights? Is this possible without telling the occupation to leave? To ask the occupiers what they are doing here?  To tell these occupiers to leave this child to grow up as he pleases, to sleep as he pleases, to live with his father and his mother and brother and sister and his cousin and his neighbor and his friend as he pleases!!
I am a Palestinian "child ", but I do not know how to be a kid. HELP me to be one! I am a Palestinian child and my childhood is punctured with the sounds of bullets shells, the roar of tanks and aircraft, the demolition of homes, the tears of  our neighbor who lost her four  children. They told me that my village was located on the other side of the line. The call 'Hey, refugee!' is often made to me – what does this mean?
I became six years old and this is the first day at school. I climbed the Wall and tore my fingernails. I cried, scared. I called out to my mom. I asked myself if all the children who go to school are climbing walls and losing their nails like me?
Mom said that our neighbor gave birth to a "child" at the checkpoint. How to be a kid at the checkpoint? Not only that, mom said, but they came at dawn and took the father! "They took him!"?! To where did they take him? We do not know! What is known that he is now the father of a child born at the checkpoint.
Oh God, how do I learn to be a kid? Who can give me the opportunity to recall my stolen childhood? Is it possible to restore a lost childhood when time has run away?
We are no longer able to wait. And because no one could teach us how to be children but we love to be children, perhaps out of curiosity, much of what we heard about the rights of children of other peoples comes from satellite, television, conferences about the rights of children. This has made us curious about being children. And for these we started to fight using our simple awareness, our ability and stones against those denying us our childhood.
I'm a "project" to be a Palestinian child!

It is time for them to leave my childhood?

Yes, leave my childhood to me and leave!

And, by myself I will learn how to be a child as I want!